Eliminating TOUCH POINTS-lock boxes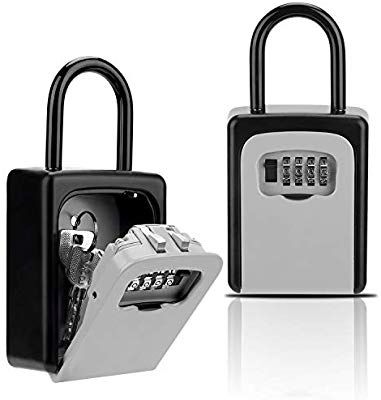 Key words we have all been hearing often these days-touch points. At Squeaky Clean we have always stressed the importance of cleaning these areas, if you have been with us for awhile you may remember the term we used "MCT-Most Commonly Touched". Same thing as touch points. I will not be talking about cleaning too much in this post, today I will be talking about lock boxes and why we prefer them over keys.
Back when this whole Covid 19-Coronavirus started I actually sat down and counted how many times certain things, such as keys, are touched in order for us to clean your home or business. You may not believe this, each key is touched a total of (email your answer to win the contest, who knows I may put good hand sanitizer, masks, or even disinfectant in the winner bag), by at least 6 different people from the  client to the techs to the office staff processing the keys. That isn't including if the client makes a copy, or if your tech is working in a team. It really adds up FAST and becomes a very HIGH TOUCH POINT.
We are working with clients to eliminate this touch point and have come up with several options that not only eliminate or lower the keys being a touch point, but keep your location secure.
1. Realtor style lock boxes-when used properly are safe. We have a source to purchase the ones in the picture for as little as 17.00. You set the code and location. Many clients only put the lock box out on days we are scheduled, other clients leave them out all the time as an extra key in case their children need to get in. These can also be purchased locally, although a little more expensive. These can get more expensive depending on the type, for example, a push button type or heavy duty types are more expensive, I purchased one for a client that was top of the line locally that costs 45.00, it was heavy in weight and had push buttons with a way for the homeowner to use a key to access the interior if needed, Fancy stuff.
2. Digital door knobs-while I can't speak on the ease of installing, they are very easy to use. Many clients have chosen this method and we have not had any problems with any of them. We use weekly the most basic of digital door knobs, to the fancy systems with fingerprints that log each entry and exit.
3. Security systems and some camera systems have the ability to unlock the door from your phone. We have a few clients using a system like this and it  is another great option that we absolutely love. With a simple text to you that we are on our way, you have the ability to unlock the door from your phone. It would be great if someone could share some more info on the systems that do this 🙂
With your help, we can eliminate this one touch point. If you prefer, we don't mind purchasing the lock box for you, coding with your code and installing. Of course we leave the box with instructions with you. To add a lock box contact us 770 468 9475 or select as an add on in your customer portal.
Commercial clients-no worries, we understand that lock boxes are not always an option, we have alternatives that we discuss during onboarding.